Library Science (Bachelor in Library & Information Science and Master in Library & Information Science  is designed to provide students with the knowledge and skills needed to function as information professionals in a variety of libraries, including academic libraries, public libraries, or special libraries maintained by government agencies, corporations, law firms, medical centers, or museums. Students earning this degree will be prepared for a wide range of careers, such as reference librarian, technical services librarian, youth and children's librarian, archivist/special collections librarian, electronic resources librarian, cataloging/metadata librarian, instructional services librarian, law/legal librarian etc.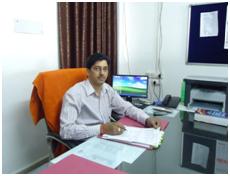 Science means restless efforts and continually progressing development towards an aim. Learning of technical knowledge is not possible without the strong base of science. Science is an organized knowledge that keeps technology in some sort of order.
The department was established in 2010 with two under graduate programmes B.Sc. ZBC and B.Sc. PCM. Later on two more courses B.Sc. PSM and M.Sc. Mathematics were added in 2011. In 2012 the department started master's degree in Zoology, Botany, Chemistry and Physics. Three more courses i.e. B.Sc. Biotechnology, M.Sc. Biotechnology and M.Sc. Microbiology were started by the department in the year 2013. 
 "Home Science means the art of managing resources efficiently and 
the science of achieving a healthy and happy home as well as successful career."
Home Science is an interdisciplinary field of  knowledge which draws upon many disciplines such as Child development, Food & Nutrition, Textile & Apparel Designing, Human Development and Family Studies, Family Resource Management,  Chemistry, Statistics, Physiology, Biology, Environmental science, Economics and Rural Development etc. The home science aims at achieving and maintaining the welfare and well being of home, social and family life in an ever changing society. Home management requires skill and scientific knowledge which does not limit itself to activities within the home but also forms the basis of a challenging profession. Home Science subject is largely scientific in nature and hence requires an analytical mind and scientific acumen. A practical approach, aesthetic, creative and rational attitude will be required to be in this field. This combination of science and art holds five areas of Home Science.
"Let food be thy medicine and medicine be thy food." ― Hippocrates
 You are cordially welcome to read and to know more about the Department of Food Science, SAPKM, Kichha affliated to Kumaun University, Nainital.
Food sciences is a multidisciplinary field that applies theories from chemistry, microbiology and other physical sciences to the study of food. The discipline uses research to develop and evaluate new food products and to determine the processes involved in the production and presentation of these products. Food sciences courses also study methods of preservation and storage of different food types, while ensuring food safety and quality.
The Department of Commerce Surajmal Agarwal kanya mahavidalaya has been instrumental in providing candidates with thorough knowledge and understanding of the principles of commerce and business. The B.Com M.Com programs are structured on team based learning, class presentations, case studies, and other reference materials, to combine academic theory with practical problems, workshops on current economic and business issues are also organized in the Department.
The Department of Computer Science  and Information Technology is to meet the growing requirement of engineers in Computer Science, Computer Applications and Information Technology discipline. Since its commencement, the primary objective of the department has been to impart quality education, training and research in various areas of Computer Science, Computer Applications and Information Technology.
Read more: Department of Computer Science & Information Technology
The Department of Management studies focuses on management education more than just business management. Objectives of Department Of Management Studies:
To train and develop student careers in the field of Management and Business Administration.
To nurture Young students to be effective managers capable of contributing value to organizations.
To explore new horizons in various functional areas of management through research.
To provide consultancy to industry for value creation by applying contemporary Management Concepts, Theories and Practices
To make students as Employers rather than employees.